Supplementation of minerals in effective management of refractory major depressive disorders
*
Corresponding author: Santhi Silambanan, Department of Biochemistry, Sri Ramachandra Institute of Higher Education and Research, Chennai, Tamil Nadu, India. santhisilambanan@sriramachandra.edu.in
Received: , Accepted: ,
© 2021 Published by Scientific Scholar on behalf of Sri Ramachandra Journal of Health Sciences
Licence
This is an open-access article distributed under the terms of the Creative Commons Attribution-Non Commercial-Share Alike 4.0 License, which allows others to remix, tweak, and build upon the work non-commercially, as long as the author is credited and the new creations are licensed under the identical terms.
How to cite this article: Shah PB, Srinivasan V, Sathianathan R, Poonguzhali S, Lakshmanan S, Maheshkumar K, et al. Supplementation of minerals in effective management of refractory major depressive disorders. Sri Ramachandra J Health Sci 2021;1:3-9.
Abstract
In the past two decades, rapid urbanization and globalization have adversely changed our lifestyle and diet habits. Our traditional healthy food habits have been replaced by processed foods with low nutritive value. These measures also saw a high prevalence of depression and other psychiatric disorders not only in western, urbanized countries but also in other developing countries as well. Long-term undernutrition due to deficiency of micronutrients such as iodine and iron can lead to increased chances of physical and mental disabilities. Undernourished children have less energy, decreased curiosity, and less interest in physical activities as well as they lack communication skills. These factors impair their physical, mental, and cognition. The aim of this article was to find the association of micronutrients especially minerals in patients with major depressive disorders. An adequate supply of nutrients is essential to regulate microbiome health and to improve the efficacy of other psychotherapeutic and psychopharmacological interventions. Lifestyle interventions in the form of dietary coaching could be used as promising, cost-effective, and practical intervention in depressed individuals. Nutritional interventions should be integrated in the multifactorial and treatment-resistant psychiatry patients.
Keywords
Micronutrients
Minerals
Trace elements
Psychiatry disorders
Nutrition
INTRODUCTION
Mental health is an increasing health problem across the world. In the United States in 2015, about 43.4 million adults were affected by any one of the mental illnesses.[1] Psychiatric disorders are highly heritable presenting with varying physical health problems. The pathogenesis behind the various psychiatry disorders is inflammation, oxidative injury, genetic predisposition, etc. The clinical manifestations in the patients may be sleep disorders, mood alterations, anxiety, decreased retention of memory, worst feature being stigmatization, and social isolation. Various treatment modalities such as chemotherapy, psychosocial counseling, and electrophysiological therapies have been in vogue till date. These remedies work better in the early stage of the disease. When the patient presents late, the efficacy is very questionable. The side effects of the drugs are also so high that the patients prefer to abstain from drugs. Diet and nutrition are considered to be key modifiable factors in the development and progression of almost all mental health disorders. A traditional diet with whole foods including vegetables, fruit, seafood, fish, whole grains, lean meat, and nuts is a good preventive measure of a number of diseases. Furthermore, our dietary habits modulate gut bacteria, the immune system and neurotransmitters involved in psychiatric disorders. Neurotrophic factors such as brain-derived neurotrophic factor (BDNF) are essential for neuronal plasticity; it is modified by dietary factors.[2] In the UK, over the past six decades, there is decline in consumption of vegetables by 34% in vegetable and also fish consumption by 59%.[3]
THE ROLE OF DIET IN VARIOUS MENTAL DISORDERS
Food-containing selenium, zinc, and iodine[4] are thought to decrease the symptoms of depression and bipolar disorder (BD). Minerals may improve mental health and cognitive functions.[3] Selenium being an antioxidant, when prescribed along with antipsychotics, improves outcomes in patients with schizophrenia [Figure 1].[5] Essential fatty acids along with zinc are useful in ADHD. Among some young offenders, diets supplemented with vitamins, minerals, and essential fatty acids have resulted in significant and remarkable reductions in their anti-social behavior.[3] Long-term undernutrition due to deficiency of micronutrients such as iodine during pregnancy and iron occurring in early childhood can lead to physical and mental disabilities. Undernourished children have less energy, decreased curiosity, and less interest in physical activities as well as they lack communication skills.[6] Minerals carry out lot of essential activities in the body such as cofactor of enzymes involved in various metabolic reactions, muscle contraction, nerve conduction, structural role, etc. Serum levels of macrominerals (calcium, phosphorus, and magnesium) and trace elements (copper, iron, manganese, selenium, and zinc) play versatile roles in the biological system ranging from regulating metabolic reactions to acting as antioxidants.[7]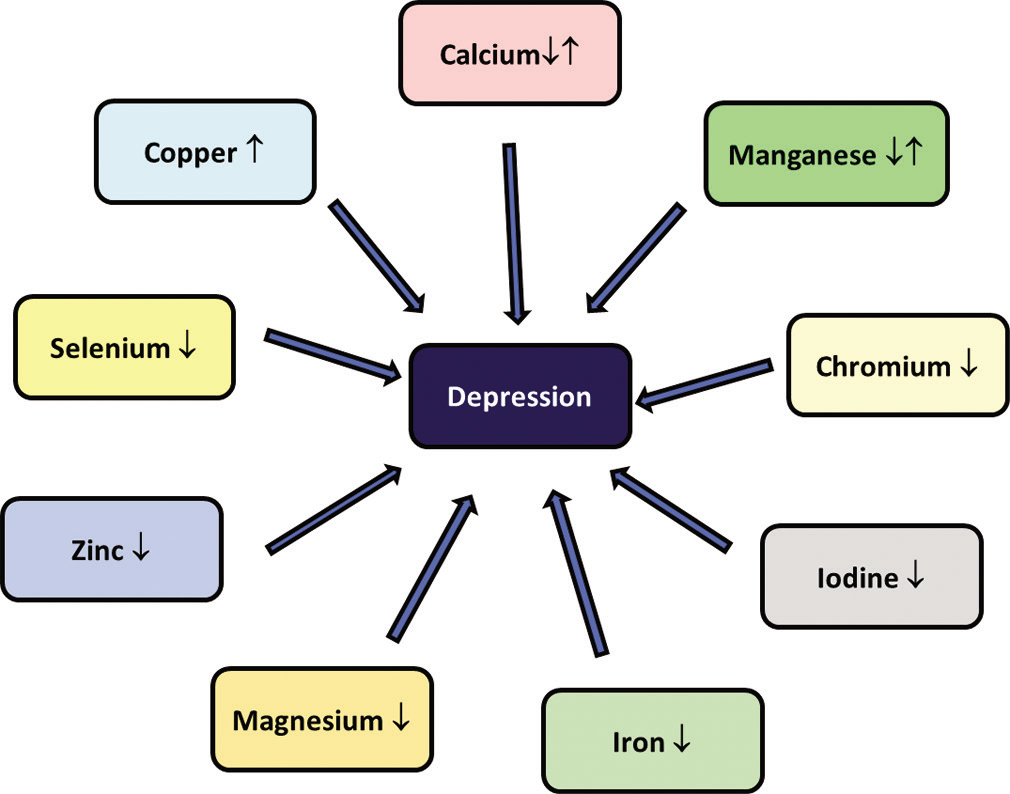 ASSESSMENT OF MINERAL STATUS
All patients should be subjected to laboratory testing to assess mineral nutrient deficiency. Testing for dietary deficiencies of these nutrients gives the opportunity to manage in the form of drugs or dietary supplementation. This could provide an adequate nutrient supply for effective brain development, thus improving cognition and thus preventing or delaying the onset of psychiatric disorders later in life.[47]
CONCLUSION
Mental wellness requires a constellation of factors including healthy lifestyle choices in the form of supplementation of vitamins and minerals which can boost mental health. Even though micronutrients such as minerals could be dietary supplements, the appropriate quantity of intake of the dietary sources containing these minerals should be from the treating physician or nutritionist. Patients shall be encouraged to eat green leafy vegetables, colorful vegetables and fruits, beans and legumes, seafood, and whole grains.
Acknowledgments
The authors would like thank DST-SATYAM for funding the project in this field.
Authors' contributions
All the authors have contributed in writing and publishing this article.
Declaration of patient consent
Patient's consent not required as there are no patients in this study.
Financial support and sponsorship
Nil.
Conflicts of interest
There are no conflicts of interest.
Show Sections